The season of gratitude is upon us. This year and every year, we're grateful for our family, our customers, and of course, our pets. Thanksgiving is all about family, and pets are family too! Let's take a moment to give a little gratitude for our favorite four-legged family members.
Pets bring joy to your life in so many ways, but did you know those silly behaviors that put a smile on your face are actually ways that your pets communicate with you? Read on to understand what they mean.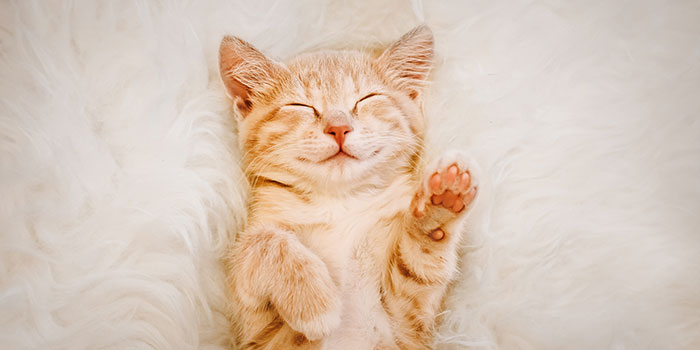 The Sleeping Beauty
You may have one of these – the kind of pet that sprawls out and truly enjoys sleepy time. Their tongue-out, belly-up, or pretzel-like contortions may make you laugh — or make you jealous of their ability to sleep anywhere and in any position! But there's more to this pose than tiredness. When dogs or cats sleep on their backs with their legs up, it means they feel comfortable enough to be vulnerable and feel totally secure in their environment.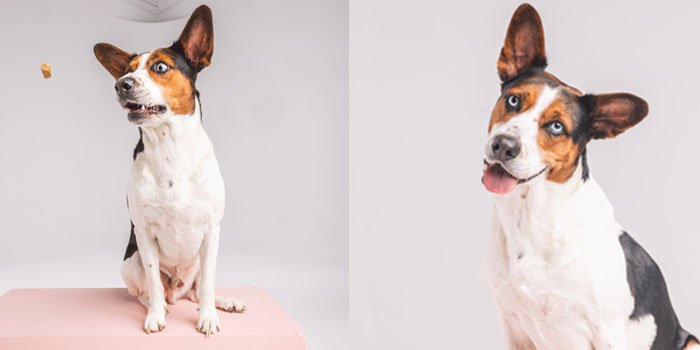 Slow-Mo Silly Faces
All it takes is a slow-motion capture of your pet doing something totally normal to get a good laugh at their not-so-normal faces. You know the one – eyes crazy, jowls flopping, nose scrunched. There's nothing funnier than a slow-motion video of a pup missing a catch or taking a tumble, but some of their silly faces actually can let you know what they're thinking! The infamous head tilt means they're adjusting their ears to tune in closer to an external noise, and when their ears are up and forward, it's a sign of curiosity.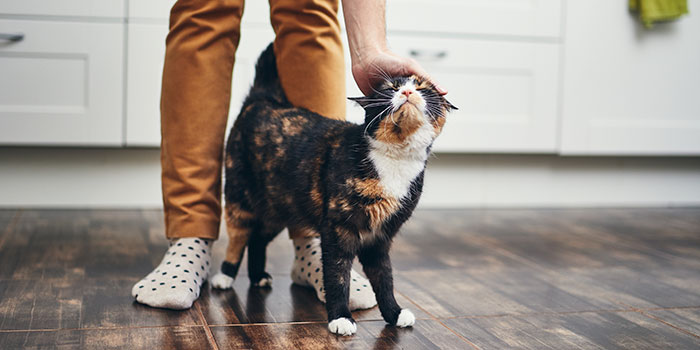 The Welcome Home Party
Any pet parent will tell you that there's nothing like coming home to a pet that's happy to see you. After a hard day at work or a long commute, nothing cheers you up faster than your furry friend waiting for you at the door. Dogs feel excitement and security when their owners arrive back home and will show their affection by shifting their weight from side to side or jumping on and licking their owners. While cats may put on less of a show, you'll know they're happy to see you if they knead their front paws or come to the door and rub against you.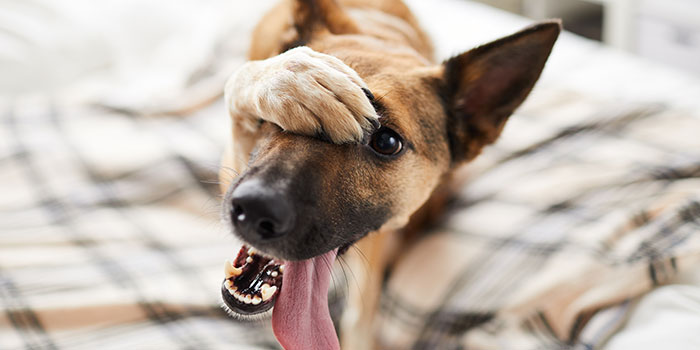 Talk to the Paw
Is there anything cuter than when a pet puts their paw over their face? Dogs use their paws to communicate with you! They might put a paw over their face when you're upset to show empathy, or as a sign of guilt if they've misbehaved or you're angry. Even cuter? When they put their paw on your face, it's a sign of friendly play and attention.
All these silly pet moments and more make us so thankful for the joy pets bring to our lives. We're grateful and proud to be in the business of giving them the happiest and healthiest lives possible. Pets may not be able to communicate with words, but they show their love through these cute behaviors in return for an occasional head scratch and a good meal. You can trust SquarePet to formulate the best nutrition to keep your pet healthy, happy, and playfully begging under the table for many Thanksgivings to come. 
Interested in giving SquarePet a try?  Find a local independent retailer  near you or  learn more about our products  for cats and dogs.